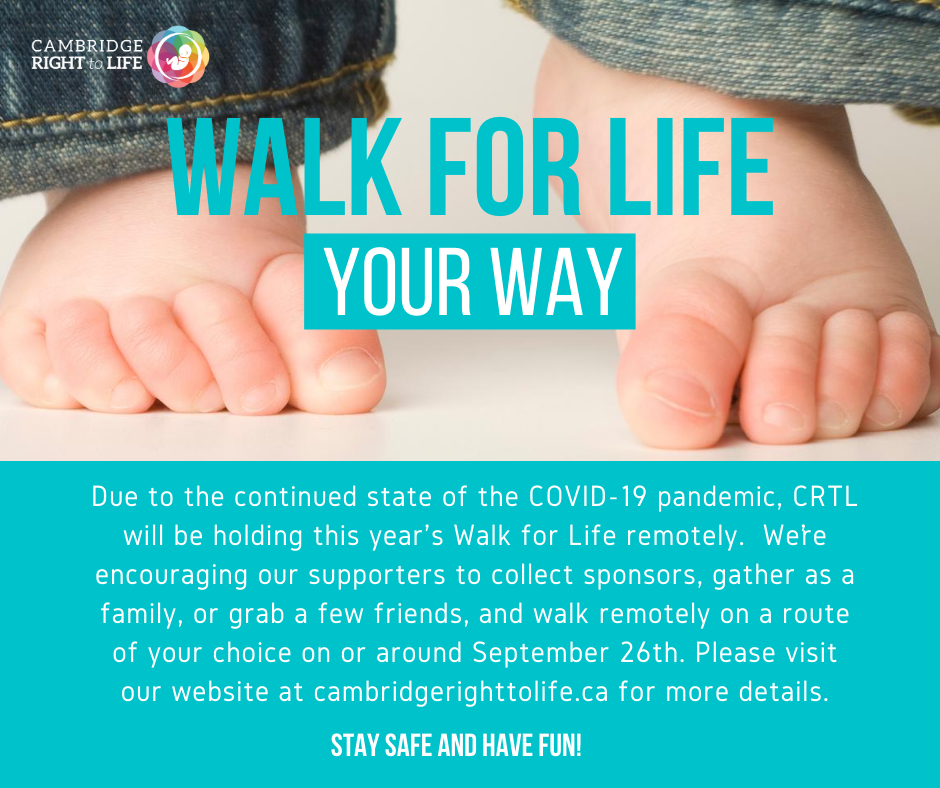 The Walk for Life is our biggest fundraiser of the year, and this year's event was  scheduled for September 26th. However, due to the continued state of the COVID-19 pandemic, the CRTL board decided to hold the event remotely to allow for social distancing.
So we're encouraging our supporters to walk remotely on or around September 26th on a route of your choice, (approximately 5 km. long) either individually or together with your circle of friends in your neighbourhood, while adhering to the physical and social distancing regulations.
While we can't celebrate in person together this year, we remain committed to raising awareness on the value of every human life and the harm abortion does to women and their babies.
Please consider the following options to help make our fundraiser a success:
PARTICIPATE AS A WALKER
Collect sponsors, gather as a family or grab a few friends and walk remotely on a route of your choice on or around September 26th. Contact the office to arrange for curbside pickup of a loaner Choose Life T-Shirt!
SUPPORT A WALKER
Sponsor someone you know who will be walking remotely. Contact the office to find out if your church or group has a delegate  walking.
DONATE
You can donate 3 easy ways:
a) Send a cheque via regular mail (10 Water St., S., Unit 102 Cambridge, ON  N1R 3C5 ).
b) Send an e-transfer to info@cambridgerighttolife.ca using the security question: What do we defend?, with the answer: Life.
c) Donate securely online through our Canada Helps page and click the highlighted link and follow the prompts.
To obtain a sponsor sheet, you can call our office at 519.623.1850 or email us using the form below. Once you have your sponsor sheet, record your list of sponsors and arrange for a time to drop off your sponsor sheet and the funds you have collected.
Thank you in advance for your participation and generosity. Stay safe and have fun!
Share This Story, Choose Your Platform!