According to organizers of the 2011 March for Life, there were "more than 15,000 people" who took part in the National March for Life in Ottawa with "80 per cent of them under the age of 25."
Our region was represented by a bus load of local particpants from the Cambridge and Kitchener region as well as students from two of our Catholic High Schools.
Teacher, Marisa Rocha of St. Benedict Catholic Secondary School organized a bus trip for her students to attend a 2-day trip to the National March for Life.
In the early hours of Wednesday, May 11th, a few staff members, one volunteer and 22 students mounted a coach bus and headed for Ottawa. Once settled in the dorms of the University of Ottawa, students were able to have some free time.  In the evening they made their way to St. Theresa Parish for a pro-life Mass and then processed to the Candlelight Vigil held at the Human Rights monument.  It was a powerful event as students reflected on the millions of lives lost through legal abortion in our country and the priceless gift of human life.
Students began the following day with Mass at Notre Dame Cathedral and then gathered on Parliament Hill. Within minutes the burgeoning crowd soon exploded into a multitude of exuberant and optimist young people who were eager to demonstrate their willingness to stand for life.
Marisa told Cambridge Right to Life that her students enjoyed every minute of the event and they can't wait for next year.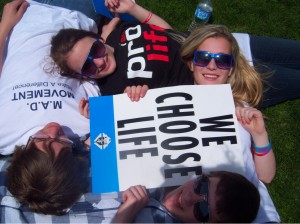 Monsignor Doyle Religion teacher, Deborah Costa stated, "Our group, albeit a smallone,  had a great time at the march and were excited to have been a part of a largely adolescent group that protect, above all things, the right to life.
Our group is planning on doing alot more awareness in the school community next year in hopes of strengthening our group and its voice."
It is encourageing to know that teachers are taking the pro-life message to their high schools.  This will inturn build up young pro-life leaders that will demand a pro-life ethic in the workplace, society and their homes.