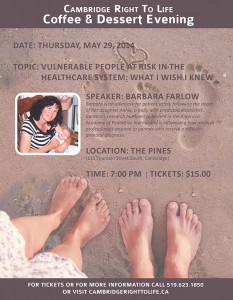 Cambridge Right to Life Presents a Coffee & Dessert Evening with Speaker, Barbara Farlow.
Barbara is an advocate for patient safety following the death of her daughter Annie, a baby with predicted disabilities. Barbara's research has been published in the American Academy of Pediatrics Journal and is influencing how medical professionals respond to parents who receive a difficult prenatal diagnosis.
Date: Thursday, May 29, 2014
Topic: The Quest for Perfection and the Silent Prenatal Epidemic
Location: The Pines (115 Fountain Street South)
Time: 7:00 PM     Tickets: $15.00
For tickets or more information, call 519.623.1850.
Click here for our promo poster.