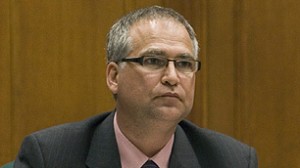 In the face of injustices in our world, one always hopes that individuals in positions of leadership will respond with conviction and honour to right whatever wrong has come to light.
On January 25, 2013, Cambridge Right to Life visited MP Gary Goodyear's office to seek justice for the 491 Canadian babies who survived abortion and then were left to die. See https://cambridgerighttolife.ca/seeking-justice-for-babies-left-to-die/. We asked that our government seek a parliamentary inquiry into the homicides of these children and that protections be put in place, including emergency medical care, for children who survive abortion.
The following week, on January 31st, three MPs called for an RCMP investigation into these homicides. Responding in the House of Commons to questions surrounding their request for an investigation, Prime Minister Harper replied "abortion is legal in Canada."
Mr. Harper is so desperate to not open the abortion debate, he does not understand or want to understand, that this is not about abortion. These babies were born ALIVE and left to DIE. That's INFANTICIDE!
On Thursday, February 7, CRTL received a response from Minister Goodyear. Here is what he said:
Thank you for your letter of Jan. 25, 2013.

Your dedication to our voiceless is admirable. Keep up the good work.

Sincerely,

Gary Goodyear M.P.
Cambridge North Dumfries
It's a very nice letter. We like nice, but quite honestly, it is a very unsatisfactoy response to such an important issue.  In fact, I think it makes a mockery of  human rights and the seriousness of our criminal code. I am reminded of the famous quote by the Right Honourable Edmund Burke who served for many years in the British House of Commons  who said, "The only thing necessary for the triumph of evil is for good men to do nothing."
I suspect that Minister Goodyear based his response on Prime Minister's Harper's desire NOT to open the abortion debate. But let's be clear, we are not dealing with the abortion issue. Children born alive are considered human beings in Canadian law. The provisions within the Criminal Code explicitly prohibit the violation of the rights of born children. These are suspected cases of infanticide and their deaths ought to be investigated as homicides.
If you are not satisfied with Miniter's Goodyear's response, please contact him at:
Hon. Gary Goodyear
1425 Bishop Street N, Unit 3
Cambridge Ontario, N1R 6J9
T: (519) 624.7440
gary.goodyear.c1@parl.gc.ca
The Right Hon. Prime Minister Harper
Parliamentary Office
House of Commons
80 Wellington St
Ottawa, Ontario
K1A 0A2
Tel: (613) 992.4211
stephen.harper@parl.gc.ca