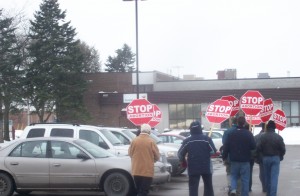 MARK YOUR CALENDAR – Join us for a peaceful demonstration at MP Gary Goodyear's office (1425 Bishop Street) on Friday, January 25th, 2013 from 1:00 – 2:00 pm.
Twenty-five years ago,  the Supreme Court of Canada struck down Canada's only abortion law. Since that ruling, abortion is available on-demand through all nine months of pregnancy up to the moment of delivery for any reason or no reason.
Below are the results of legal abortion in Canada:
Over 3.5 million pre-born  children have lost their lives to abortion since 1969*
Abortion is available throughout all nine months of pregnancy
300 abortions occur every day in Canada*
1 in 3 women undergoing abortion have already had one or more*
Post-abortive women are at greater risk of psychiatric problems during  the  3-month period following the  
 abortion**
Abortion on-demand costs Ontario tax-payers over 50 million dollars every year 
* Statistics Canada
** College of Physicians and Surgeons of Ontario, 2000
Click here to download poster.
For more information, contact 519 623 1850 or email info@cambridgerighttolife.ca.